Financial institutions having complex portfolios and high transaction volume require fully optimized software solutions. As data grows in size, so does complexity and regulations. In order to cope with financial organization system needs,
ATLAS Financial System
HSE offers ATLAS, a financial suite that offers several modules for all the critical needs of a financial institution.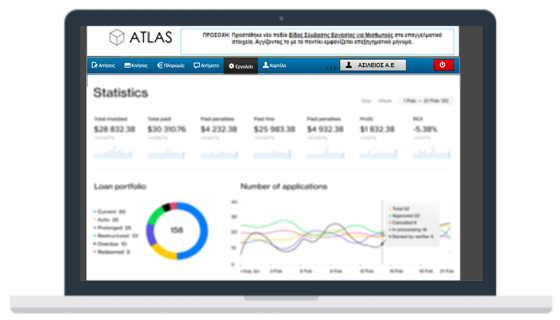 ATLAS Transactions, the core banking platform
ATLAS Loans
ATLAS Portal that enables users to see their transactions and their monthly bills
ATLAS CRM, a system tracks every customer interaction and manages customer accounts. It is designed to help improve customer relationships.
ATLAS Analytics
ATLAS AI Profiler
ATLAS AI Customer Visualization
---
ATLAS Lending Platform is a Transaction consumer loan system that offers all the tools needed to automate the lending process. This fully optimized software meets all the requirements for both back office and front office operations. Through its use all the operations are implemented with simple steps in order to improve efficiency and automate workflows.
---
Accelerates data collection, data quality, management, and reporting
Combines internal, external, unstructured, and structured data
Creates analytics across production data in near real time
Connects with other systems,
---
By addressing foundational data and technical challenges, ATLAS allows an organization to meet today's regulatory controls, proactively respond to future concerns, and keep pace with business growth.
Don't hesitate to contact us about the financial project you are considering working on. We will come up with solutions that fit best your needs.